12 pc DEMOWOLF™ Reciprocating Saw Blade Demolition Kit
1214412RKD
12 pc DEMOWOLF™ Reciprocating Saw Blade Demolition Kit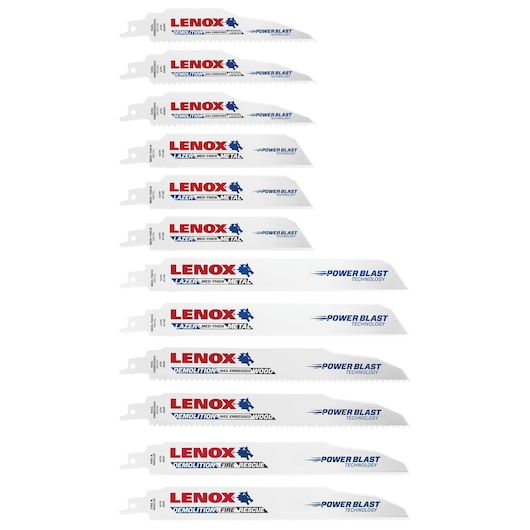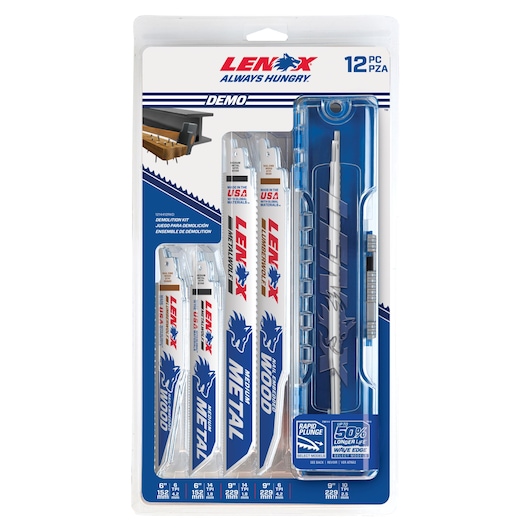 1214412RKD
12 pc DEMOWOLF™ Reciprocating Saw Blade Demolition Kit
OPTIMIZED TO PERFORM CUT AFTER CUT: Tall, thick blade profile designed to add durability and minimize blade breaks to deliver the endurance needed for rigorous demolition application
RELIABLY AGGRESSIVE CUTTING: High-speed steel cutting edge and spring steel backing helps strengthen the blade, reduce breaks, and provides durability for long blade life
T2™ TECHNOLOGY Tooth design delivers up to 2x the life versus previous model
Product Overview
Unleash high performance with the rugged and durable LENOX® DEMOWOLF™ Reciprocating Saw Blades, suitable for a variety of demanding cutting jobs. The tall and heavy-duty blade makes quick, clean cuts through thick material with a high-speed steel cutting edge engineered to last. The blade tip is designed for clean plunge cuts, and its spring steel backing bolsters blade strength to help reduce breakage.
Additional Features
Applications
Nail-Embedded Wood
Thick Metal
Demolition
Includes
(3) 3x 6066R, 3x 6114R, 2x 9114R, 2x 966R, 2x 960R
(3) 6066R Reciprocating Saw Blade
(3) 6114R Reciprocating Saw Blade
(2) 9114R Reciprocating Saw Blade
(2) 966R Reciprocating Saw Blade
(2) 960R Reciprocating Saw Blade
(1) Storage Case
| SKU | Product Name | Purchase |
| --- | --- | --- |
| 121439KPE | 9 pc MULTIWOLF™ Reciprocating Saw Blade General Purpose Kit | |
| LXARSET16CS | Reciprocating Saw Blade Kits | |
| 1214412RKD | 12 pc DEMOWOLF™ Reciprocating Saw Blade Demolition Kit | |
Support
No Limited Warranty
Unfortunately, this specific product is not eligible for any warranty. Further information about our warranties can be located below.
Learn More
Service
We take extensive measures to ensure all our products are made to the very highest standards and meet all relevant industry regulations.