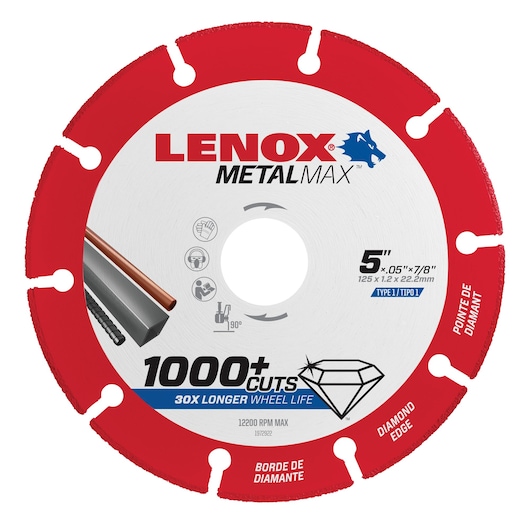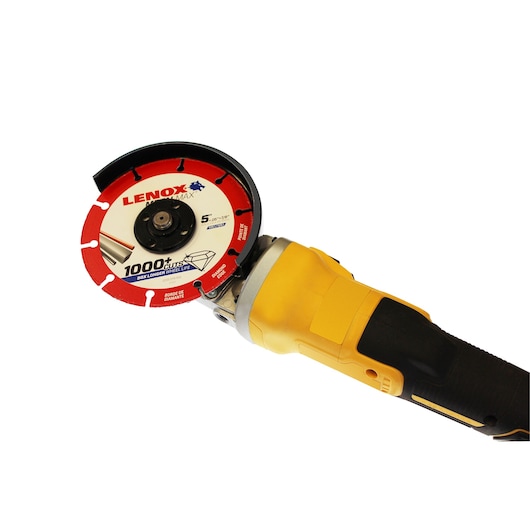 1972922
Lenox Metalmax ™
1,000+ Cuts:
Metalmax™ Delivers 1,000 Or More Cuts With No Need For Wheel Changes. That Is 30 Times Longer Life Than Thin Bonded Cut-Off Wheels.*
Long Life:
View more features
Product Overview
Lenox MetalMax Diamond Edge Cutoff Wheel, 5" x 7/8", is an alternative to bonded abrasive cut-off wheels. Breakthrough diamond technology delivers 1,000 or more cuts and 30X longer life than thin bonded cutoff wheels* without sacrificing speed or finish. Made of solid steel to greatly reduce the risk of breakage, the combination of a steel body with a diamond edge allows MetalMax to hold its original wheel diameter until the last cut, meaning better control, reach, and cut precision throughout the wheel life. The enhanced design substantially reduces dust particles and lessens odor. Lenox MetalMax is suitable for metal cutting applications including steel, sheet metal, stainless steel, rebar, cast iron, aluminum** and non-ferrous metals, and works at the same speeds and feeds as thin bonded abrasive wheels.͍*Average performance in 1" carbon steel square tube vs. thin bonded abrasive cutoff wheels.͍**Cutting wax or saw lubricant is recommended to avoid chip welding when cutting aluminum.
Additional Features
Advanced Diamond Technology Provides Extreme Durability In Metal Cutting Applications, Leading To Increased Productivity, Reduced Downtime, And A Lower Cost Per Cut Compared To Thin Bonded Cut-Off Wheels.
Diameter Retention:
Because Lenox Metalmax™ Is Made With Diamonds, It Doesn'T Get Smaller. The Cutting Depth Stays The Same Throughout Its Life, Meaning Better Control, Reach And Precision.
Less Dust Residue:
With Lenox Metalmax™ There Is Less Odor And Dust Residue As The Wheel Does Not Wear Down Like Bonded Abrasives. Sparks Originate Only From The Material Being Cut.
One Wheel, Multiple Materials:
Lenox Metalmax™ Is Recommended For Multiple Types Of Metal Including Steel, Sheet Metal, Stainless Steel, Rebar, Cast Iron, Aluminum** And Non-Ferrous Metals.
Lenox Metalmax™ Is Designed For Use In The Same Power Tools As Bonded Abrasive Wheels, At The Same Rpms And Feed Forces. No Changes In Operating Settings Are Required. Use Lenox Metalmax™ As You Would A Bonded Abrasive Wheel.
Average Performance For 4.5" Inch Wheel In 1" Carbon Steel Square Tube Vs Thin Bonded Abrasive Cut-Off Wheels.
When Cutting Aluminum, It Is Recommended To Apply Cutting Wax Or Other Type Of Saw Lubricant To Avoid Chip Welding.
Support
No Limited Warranty
Unfortunately, this specific product is not eligible for any warranty. Further information about our warranties can be located below.
Learn More
Service
We take extensive measures to ensure all our products are made to the very highest standards and meet all relevant industry regulations.