LENOX® GOLD® Fixed Blade Knife
20354SSFK1
LENOX® GOLD® Fixed Blade Knife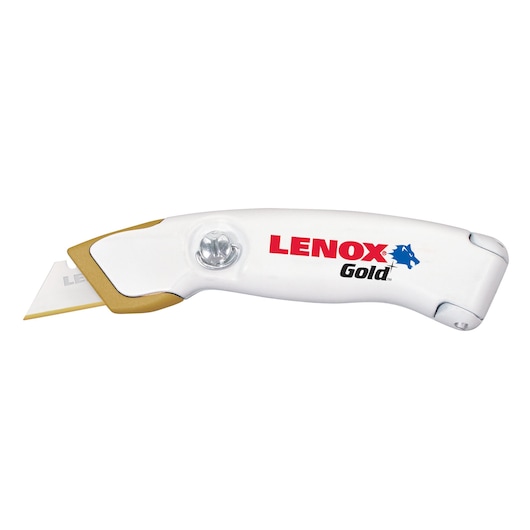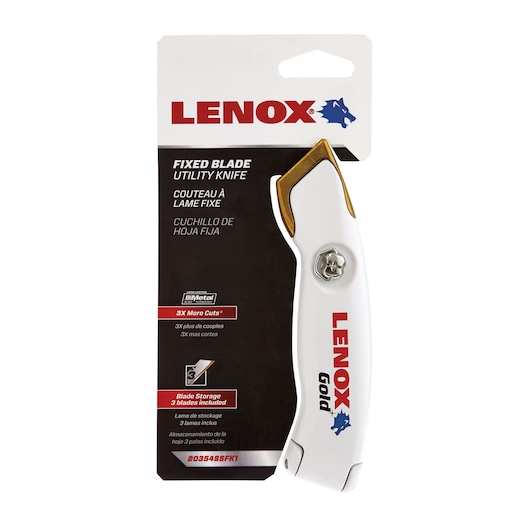 20354SSFK1
LENOX® GOLD® Fixed Blade Knife
Extremely Durable Stainless Steel Nose: One Piece Titanium Nitride Coated Nose Resists Wear And Eliminates Spreading
Premium Blades: Three Shatterproof Titanium Nitride Coated Edge Blades Included
Easy Blade Change: Quick Blade Release Allows Rotation Or Changing Of Blade Without Opening Handle
View more features
Product Overview
The LENOX® GOLD® Quick Change Fixed Utility Knife has a one piece stainless steel titanium-coated nose which eliminates spreading, resists wear and is extremely durable. Quick blade release allows rotation or changing of blade without opening handle. No tools are needed to open the utility knife to access the blades. It stores up to five blades in the internal blade storage.
Additional Features
Internal Blade Storage: Retractable Knife Stores Up To Five Blades
Easy Blade Change
Quick Blade Release Allows Rotation Or Changing Of Blade Without Opening Handle
Internal Blade Storage
Retractable Knife Stores Up To Five Blades
Fixed Knife Stores Up To Ten Blades
No Tool Needed To Open
Support
Lifetime Limited Warranty
We're confident of the quality of our products and we'll repair, without charge, any defects due to faulty materials or workmanship within the specified warranty.
Learn More
Service
We take extensive measures to ensure all our products are made to the very highest standards and meet all relevant industry regulations.